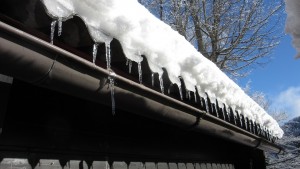 After a harsh, cold winter, the clear, sunny skies and rising temperatures of spring are much appreciated. However, spring can be a potentially dangerous time of year for homeowners. It's the time of year when flooding is most likely to damage a home.
Here are some tips to prepare and protect your home and family from flooding.
Keep an emergency kit on hand, stock up on extra food and water.
Watch forecasts.
Shovel snow away from your homes foundation and windows.
Clear gutters of debris to improve water flow.
Store important objects or family heirlooms off the floor and in plastic/waterproof containers.
Clear basements of food, chemical products, sharp objects, and furniture to prevent contamination.
Unplug appliances in areas that could be flooded.
Ensure drain ditches around homes are clear of debris.
Install sump pump.

The sudden melting of snow, the thawing of ice underground, and the expectation of heavy rain in early spring most always combine for a realistic possibility of an emergency. Be sure to prepare your home to prevent flooding from spring thaw.